READY TO WELCOME YOU SAFELY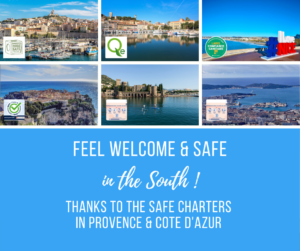 As of May 2021, your delegates will feel at home in the South of France.
To ensure your health and safety during your stay, the destinations of Aix-Marseille, Cannes, Mandelieu-la-Napoule, Monaco, Nice and Toulon are strongly committed to welcoming your events in the utmost respect of sanitary requirements. They have all developed Covid-safe charters guaranteeing the maximum security from your arrival at the airport, throughout your stay, and until your departure.
Please find below information on the Covid-safe charters implemented in the partner destinations of the Major Events Department: