The second largest city in France, backed by the Grand Port Maritime de Marseille Fos, the largest port in the Mediterranean and connected to a dense network of facilities and logistics platforms, Aix-Marseille-Provence is more than ever a major Euro-Mediterranean centre for decision-making, trade and services at the world level, and has made professional meetings one of the key areas of its economic development.
300 days of sunshine a year, protected natural areas: Calanques National Park, the only interurban park in Europe, 57 kilometers of coastline and hills such as the Garlaban and the Sainte-Victoire mountain. A land of international cultural and sporting events, Aix-Marseille Provence is developing and improving its offer with new sites and facilities for hosting "Lyric Art in Aix-en-Provence" festivals and the 2024 Olympic Games in Marseille.
Economic field
International Metropolis, "Euroméditerranée", largest business centre in southern Europe.
Marseille-Fos, 1st port of France, 3rd oil port in the world, 1st cruise ship port  in  Mediterranean.
Leader in the aeronautic industry with Airbus Eurocopter Company. 14000 shops and 4500 downtown: a trendy city.
The successful fusion between the 3 universities Aix-Marseille makes Marseille the first French-speaking University in the world with 75000 students.
Second public scientific and research centre in France with 7700 researchers and 130 laboratories
4 labeled French tech sites, a fast-growing startup network, 7 000 companies, 40 000 jobs generated.
Interxion, the giant European data center, chose Marseille to develop connectivity. In order to improve the movie industry, the city created the "Bureau du Cinéma" in 1996. The organization monitors industry trends and provides project assistance: a motion capture studio and special effects at the Belle de Mai Media Hub. 2nd film making destination in France with 385 film shoots.
3rd University Hospital Centre of France, Marseille plays a key role in maintaining France's international standing in terms of medical excellence. The country's reputation is founded on its highly skilled practitioners and healthcare teams, the quality of its technical resources, innovation and scientific and clinical research, as well as the provision of universal health care.
Marseille is also a city undergoing a metamorphosis with Euroméditerranée, the largest urban renewal project in Europe, and is consolidating its attractiveness with a renovated and expanded hotel complex (9 761 rooms in 2023), the largest business district in Southern Europe. Marseille-Fos, France's leading port, the world's 3rd largest oil port and France's leading cruise port in the Mediterranean.
Leader in aeronautics, notably with Airbus Eurocopter. 14,000 shops including 4,500 in the hypercentre, a lively and festive place to live.
Second French city for public research and world-renowned in health: second French centre for clinical trials and oncology, Marseille is home to the Immunopôle cluster, along with the IHU Méditerranée Infection and Gyptis, the largest research institute for rare diseases.
Marseille has become a major hub for submarine backbone lines carrying optical fibers to link European content operators to the rest of the world (Americas, China, India, Africa). Major data centers are being set up in the city to host their customers' servers (the GAFA are already there). A context that echoes one of the flagship sectors of the metropolis: digital, labeled French Tech. Aeronautics, maritime transport and logistics, energy, water and the environment, the art of living and tourism are promising sectors for Marseille's growth.
A world class recognized experience in innovating therapies. 2nd French lab in clinical trials and cancerology. Marseille Immunopole, French immunology cluster.
Audiovisuel Digital & Creative Industries
A hyper-connected metropolis with the largest Internet backbone in Southern Europe
Mechanical & Aeronautics Industry
1st industrial sector of the metropolis and 1st mechanical centre in France after Paris Worldleader in helicopter manufacturing.
1st French Marine Geothermal power station, Thalassia; 1st electricity production from biogas and World Water Council Headquarters.
1st French port and 1st French center for 3rd largest oil port in the world
Provence, a star brand with 6 classified resorts, 7 million tourists a year, 1st French cruise port and 1st European Marina port.
They trusted us:
SOME EVENTS HELD IN MARSEILLE IN 2021-2022
International Union for Conservation of Nature Congress – IUCN
European Society of Paediatric Otorhinolaryngology – ESPO Congress
European Ethylene Producers Committee – EPCC
European Society for Stereotactic and Functional Neurosurgery – ESSFN
World Association for Bronchology and Interventional Pulmonology
European Coil Coating Association – ECCA
European Emergency Number Association – EENA
Annual Meeting and Congress of the International Commissions on Large Dams – ICOLD
Continental European Division of the International Association for Dental Forum – IADR
UPCOMING EVENTS IN MARSEILLE 2023-2025
17th International Symposium on Myelodysplastic Syndromes – MDS 2023
Congress of the Federation of European Societies of Plant Biology – FESPB
4th European Conference on Pharmaceutics Exhibition
European Congress on Clinical Neurophysiology – ECCN
European Society of Minimally Invasive Neurological Therapy – ESMINT
Annual Meeting of European Society for Paeditric Endocrinology – ESPE
European Physical Society Conference on High Energy Physics – EPS-HEP 2025
Marseille host city of the sailing & Football events of the Olympic and Paralympic Games of 2024
Aix-Marseille Provence Convention Bureau is part of the Tourist Office & Convention Bureau and plays an active role in promoting the city, its appeal and its reputation.
It federates and centralises local service providers that abide by a shared charter governing quality, hospitality and services.
No matter how complex your request, all 9 members of the team are here to listen to you
and to advise you on every decision.
So if you would like to organise a convention, symposium, seminar, meeting or incentive trip in Marseille, or support the choice of Marseille for a national or international association's event, or even share your passion for Marseille:
Contact Aix-Marseille Provence Convention Bureau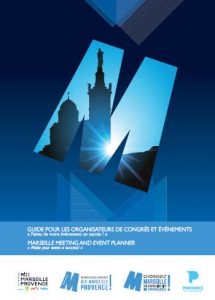 https://fr.calameo.com/read/0022434016152b176c469
Marseille Chanot: www.marseille-chanot.com
Whatever kind of event you're holding, of whatever size, Marseille Chanot offers a customised approach, with a large selection of spaces all in one place at the heart of the city. With 60,000 sq m of covered areas adn 60,000 sq of outdoor space, we have just the thing for your project. Marseille Chanot has emerged as one France's leading convention and business tourism venues.
Convention Centre
Over 100 000 sqm of indoor and outdoor areas all on one site: Marseille Chanot, after two rounds of modernization, offers 5 exhibition halls in the city centre.
The Convention centre boasts 15 000 sqm on three floors surrounding an expansive and bright patio area.
2 auditoria : 1205 seats & 426 seats
12 breakout rooms
1450 m2 modular space
terrace of 500 m2
6 halls (40 000 m2 exhibition space)
Palais du Pharo : http://palaisdupharo.marseille.fr/
Give your event a historical edge!
The Palais du Pharo is situated at the entrance to the Vieux-Port with over 500 hotel rooms in the area. It offers 7000 sqm for your convention spread over two architectural spaces : the historic palace and its modern extension.
4000 m2 of exhibition spaces for convention, the historical Palace (seating 10 to 300) and the contemporary extension (auditorium, seating 900), the catering area (seating 1000) and breakout rooms.
Auditorium with 900 seats
Plenary for 300 seats
breakout rooms
1150 m2 catering hall
1640 m2 exhibition hall
2 historical lounges
An exceptional site with an amazing view
Facing the see and the Old Port
World Trade Centre Marseille Provence : www.wtcmp.com
City Center Vieux-Port combines accessibility with authenticity and modernity: easy access, a 1800-places public car park nearby, a 4-star hotel with 200 rooms directly linked to the Event Center where you will be welcome into new areas that have been entirely refurbished with cutting edge technologies. And all this is situated a stone's throw from the Vieux-Port and the city's famous tourist attractions.
Our 2000 m2 of fully flexible and adaptable meeting rooms are perfect for the organisation of all your formats and events: conferences, exhibitions, seminars…
Each professional event is a challenge that our teams will meet at your side with a range of made-to-measure services.
Audiovisual equipment and technical assistance
Restaurant-Caterer
High quality on-site accommodation: 4-star Mercure hotel
Gala services: closure cocktail parties or gala dinners at prestigious local venues
30th storey brandly new skyscraper: 135 m high. With 900 sqm area, high-techbusiness event.
Up to 250 persons for dinner and for cocktail up to 500 persons.
New: 150 sq.m. of outside space «the terrace» with panoramic view of Marseille and its surroundings
Delivery in early 2023.
Aix en Provence Congress Center : www.aixenprovence-congres.com
Ideally located in the heart of the historic capital of Provence, the modern and functional
Aix-en-Provence Congress Centre offers various configurations, adapting to different kind of
professional events: congresses, conventions, scientific conferences, seminars, exhibitions, etc.
Aix en Provence Convention Centre for a professional event that's 100% Provence !
Hotels Facilities : 9761 rooms
5* : 4 hotels: 364 rooms
4* : 21 hôtels : 2 348 rooms
3* : 36 hôtels – 2 317 rooms
2* : 23 hôtels – 1 723 rooms
1* not classified and 0 star hotels: 26 hôtels – 720 rooms
Apartment hotels : 23 pour 2 289 rooms
Soit : 133 hôtels – 9 761 rooms
By airport
133 scheduled routes, 117 destinations, 30 countries, 31 airline companies
21 rotations per day between Paris and Marseille in 1h 15'
88 regular destinations
A shuttle running every 10' directly linking the airport to the train station
By train: Over 200 trains daily, 17 TGV Mediterranée Paris/Marseille daily
Roads: 3 motorways linking Spain, Italy and Northern Europe intersect in Marseille
A wide choice of exceptional and outstanding venues, whether on a rooftop, in a museum, on an island, in the middle of vineyards, in a Provencal farmhouse, in historic and emblematic places: you will be amazed by the diversity of the offer.